Sam and her mom had visited the Justin Gallery in Seaside last year and assured me that we had to go in and look while we were there. I'm so glad we did because
Justin Gaffrey's
work is amazing!
I took a peek around Justin's
website
to find out more about the artist and I fall more in love with his pieces every time I see them. Before becoming an artist, Justin was a chef and restaurant owner, which made him realize his love for creating. When he was ready, he quit the restaurant business to pursue a career as a visual artist. His website describes his style as "textured [and] classically impressionistic" and I think that sums up his pieces perfectly.
Justin works exclusively with acrylic paints and predominately uses the palette knife to produce his works. The website describes his technique as "sculpting with paint," which is exactly the impression his pieces give. He tends to use more vibrant colors but some pieces are done in muted colors or entirely in white (as shown above). Justin lives in Walton county and finds inspiration from the beauty surrounding Florida's scenic Highway 30-A.
Amazing, right? I'm not sure that I could pick just one favorite, but if I HAD to, I'd choose the stag. It's fun without being too much and for some reason it really speaks to me. You can definitely see the texture in these photos (all pulled from Justin's website) but this video gives an even better idea:
Seriously, so cool! I didn't look into pricing while at the gallery because I knew that all of the pieces would be out of my price range but I hope that in the future that won't be the case. Next time I go to Seaside I'll definitely be sure to visit the Justin Gallery to see what's new, or maybe just to see this bike again :)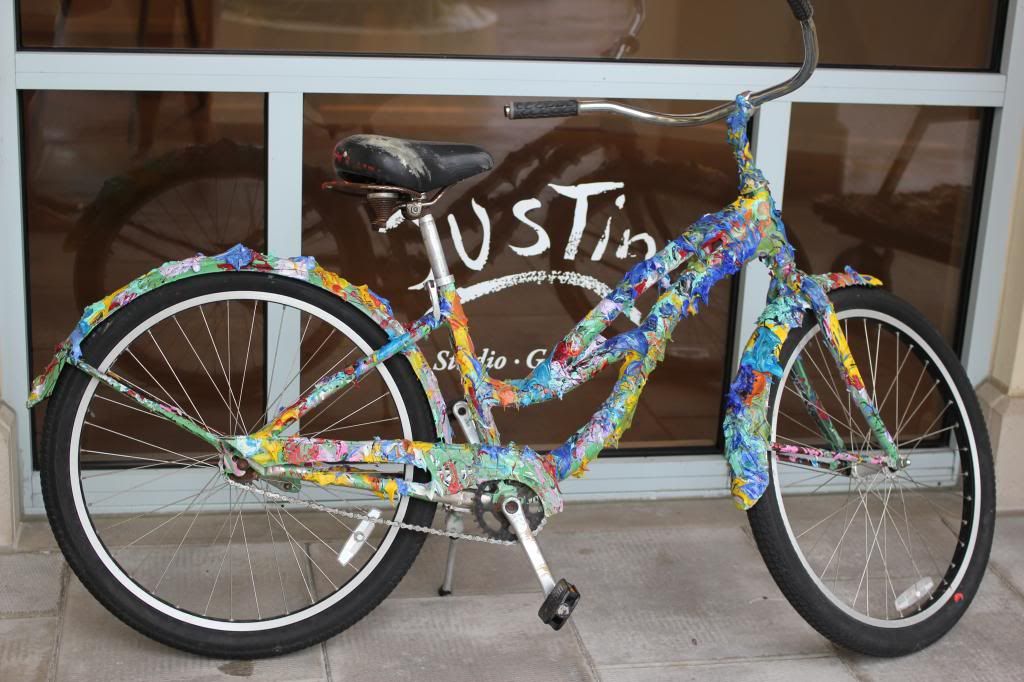 I know everyone has their own taste in art, but I for one am a new Justin Gaffrey fan! Let me know what you think of his work. I'd love to hear about any of your favorite artists too!
**All photos (minus the bike), videos and information on Justin from his website.