My last guest blogger of the week is Sarah, of
Sarrrahgirl
, bringing us a post about her favorite makeup products! Sarah and I met senior year of college in one of our advertising classes and quickly developed a friendship. We bonded over all things social media and a mutual love for beauty products. Since I've moved back to Houston, we're right down the road from each other and generally try to get together at least once a week, whether for an outfit post (she's my photographer!) or just meeting up for our favorite meal: brunch. Without further ado, I'll let
Sarah
take it away!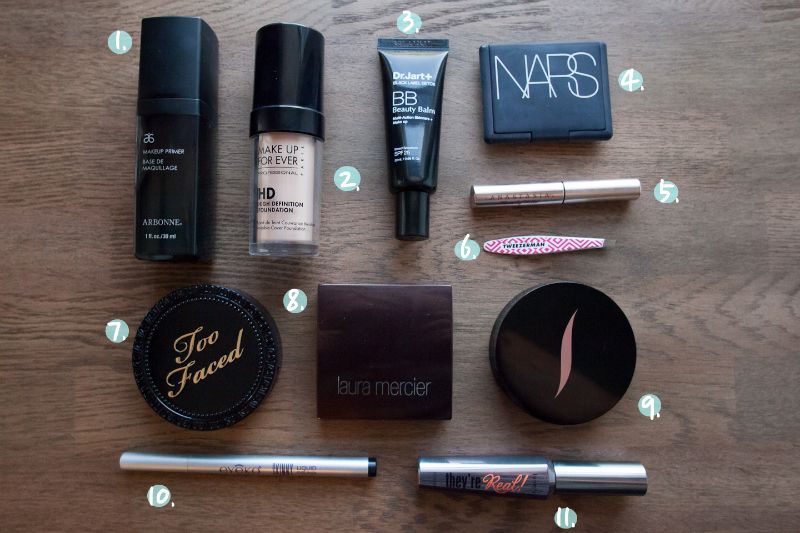 Hello everyone! I'm Sarah and I blog over at
Sarrrahgirl
you may also know me from Emily's
Outfit of the Day
posts. When Emily asked me to guest post for her, of course I said yes. The hard part was figuring out what to write. I ultimately decided I wanted to share my favorite makeup products --- Emily and I share a lot of common interests: wine, shopping, working out, and our love for new makeup products.
Arbonne Primer - Aside from being hypo-allergenic, this primer helps with problematic dry patches and leaves your face feeling like satin, not to mention, as a primer it keeps your makeup looking flawless.
Makeup Forever Foundation - When I need a lot of coverage, this is my go-to foundation. I use an angled contour brush and lightly stipple it on.
Dr. Jart + - This can be used as a bb cream under foundation or on its own. Either way you use it, definitely set it with some powder.
Nars Blush in Torrid - Unlike most Nars blushes, this isn't super shimmery - which was always a turnoff for me. I love the color on my fair skin and it blends perfectly.
Anastasia Brow Gel - Honestly, I just started using this brow gel and only occasionally. I included it because it really is a great product and it is great at keeping stray brows in place. I love it, but sometimes I like hitting the snooze button a little more. ;)
Tweezerman Tweezers - I just replaced my first pair of Tweezerman's (which I had for years) because they got lost in my last move. In the meantime I was using drugstore tweezers and as soon as I bought my replacement pair I was cursing myself for not doing it sooner. For tweezers they seem pretty pricey, but if you hang on to them they are worth the investment!
Too Faced Powder - Just plain good powder.
Laura Mercier Secret Camouflage - This is one of my favorite products. The concealer covers really well and there are two tones that you blend to conceal redness, bumps or dark eye circles.
Sephora Bora Bora - I seldom use bronzer, but when I do, I do not want to look orange! This bronzer is super affordable and works really well over a tinted moisturizer or even the Dr. Jart+ mentioned above.
Eyeko Liquid Eyeliner - On days when I'm not running late (rare) or if I'm going out at night, this is the perfect eyeliner for a little cateye. It feels natural in your hand and it 'writes' like a felt tip marker.
Benefit They're Real Mascara - I loved the trial tube I got for my birthday from Sephora, so much so that I bought the full size. After a few more uses I'm not super impressed with it anymore and I will probably replace with my usual: Buxom Amplified Lash Mascara, the wand adjusts height which helps with length and volume.
Makeup isn't something I've blogged about before, so it's been fun to try it out. Leave a comment and let me know what you thought and, of course, your favorite products!
*I used Amazon Affiliate linking in this post, to visit Amazon without my affiliate link, click here.